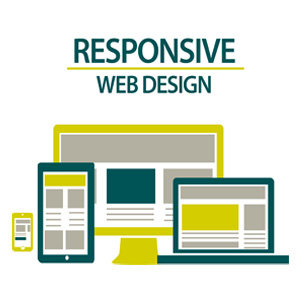 Mobile Friendly & Responsive Web Design Company - Mumbai, India.

We make websites that works effectively on desktop browsers & myriad of mobile devices. With unprecedented growth of smartphones and tablets, the way web information is accessed today has completely changed. More than half the internet users are from mobile or other handheld devices. These facts make it imperative for all web applications, websites, e-commerce portals, blogs, forums or social media sites to be compatible on all devices, so that you do not lose any valuable leads and customers coming from handheld devices. Having a responsive website will surely greatly benefit your company. You shouldn't present an unresponsive website to a customer who is exclusively looking for your products or services online.
So What Exactly Is Responsive Web Design?

Responsive web designing is a technique for building your business website that works on all access devices. In the post-PC world, responsive webpages layouts is a must. Sites with responsive designs provide an excellent experience on any screen: mobile, tablet, desktop and even television. Responsive web designing is a way of making a single website that works effectively on both desktop browsers and the myriad of mobile devices on the market. Responsive architecture gives the best quality browsing experience - whether on a smartphone, tablet, netbook or e-reader, and regardless of the operating system.


We love Responsive Web Design - One Size Fits All!

Responsive web designing in Mumbai offered by T Technologies®. We provide ultimate responsive design services that detects the browser, device and it's screen resolution and displays the website accordingly. We have been able to produce some great responsive website designs by using the latest technologies like HTML5 and CSS3 for website designs. We have been the front runner with our excellent experience in responsive web development and mobile friendly websites using industry standard frameworks and coding standards. Our front-end developers stay immersed in the latest technologies, letting them execute designs and match actual design pixel by pixel. We build clean, usable and responsive web applications / websites that are mobile friendly and content focused.
Advantages of Responsive Web Design - What Challenges/Problems Does Responsive Website Solves?


If your website is not accessible to this sizable chunk of customers or potential customers, then your business has a lot to lose and your competitors have a lot to gain. Don't let that happen to your business.
Increases your reach to wider audience using tablet and mobile audiences.
Increases sales and conversion rates.
Consolidate your analytics and reporting, since you manage one single site and not multiple site or mobile native apps.
Increases your visibility in Search Engines.
Saves time and cost on mobile development because responsive works on all devices, seamlessly.
Saves time and cost on site management.
Consistent user experience.


Google, Yahoo & Bing Love Responsive Web Designs

Google and Bing have also made it very clear that they like responsive web design and this often results in improved SEO and search engine visibility.
Responsive Website Design (RWD) - Website That Works On All Devices

We are expert responsive web designers based in Mumbai & we build responsive sites for business verticals of all levels. Get a mobile friendly website with our responsive design service. All your pages will adapt automatically to the screen size (mobile phones, tablets, desktop computers). We combine our years of experience and knowledge in both web and mobile platforms to create a solution that is relevant and effective for your online business and information gateways. Our developers follow flexible and fluid grid system which adapts to its environment, so the same design and code shrink or expands into any browser without sacrificing looks or performance. We focus carefully on product goals, ease of use and clear content hierarchy so that different versions of the website integrate seamlessly.
Why Our Responsive Web Design Company?

As a responsive web design & development company in Mumbai, Maharashtra (India) we have helped over 100+ companies all throughout India; small businesses and large organizations realize the full potential of a mobile friendly website. Try us out and witness a striking increase in your company's business. If you don't have a responsive website or app, let us help you go responsive today!